FreshpicksWA Smoothie Store
Stopping by will literally be the best choice of your day! We're looking forward to turning your day around from just an average "OK" day to the best one!  Hey, P.S…. Why not go out on a limb??? That's where the best fruit is! See you soon!
#BestSmoothiesInTown!
FreshPickswa Smoothies & Fruit Store
We are a family owned local business. We have become the most popular smoothie location in the Tri-Cities WA area. We take pride in the fact that the majority of the fruit we make our smoothies with actually comes from our own farms. Tree ripened, farm fresh and local ingredients. You can't get better than that. Yes, we are a smoothie store but until you've visited us your never know that we are actually much more than that. Our smoothies are made with real, whole pieces of fruit and there is no sugar added. We have gluten free options, dairy/lactose free options, low calorie milk options, and 100% fruit juices. We don't use pre-mixed packages or preservatives or unnecessary additives. We take pride in our smoothies and in their taste. Yes, we do have Green Smoothies and Heart Healthy Smoothies as well! We also have the option to create your own smoothie — something you won't find other places.
The main purpose for the store was to provide a direct line for the consumers to interact with their farmers. "farm to table". With this in mind we also market many of our own farm fresh produce; such as apples, peaches, cherries and asparagus (in season of course). Additionally, we have partnered with a local craft coffee roasting company (Rockabillies Roasting Co) to provide a top notch coffee you won't find from the other local franchised coffee locations.  We also provide several branded specialty items such as our famous apple sandwiches, fresh home-made pies, and chocolate covered strawberries. Lastly, after having grown up on a farm and learning how to do everything with fruit, we also sell other specialty items such as ciders, jams and salsas. so when you come into the store you hopefully get the feel of stepping onto our farm. 
So, if your looking for fun place to check out, bring a date, to get a healthy snack for mom, to have a little business meeting, you could swing by on your way to work, or drop by after your morning workout. Whatever your reason may be we will look forward to serving you! 
8378 W Grandridge Blvd Kennewick, WA 99336
1 (509) 491-3252
M-S 7AM to 6PM, Closed Sunday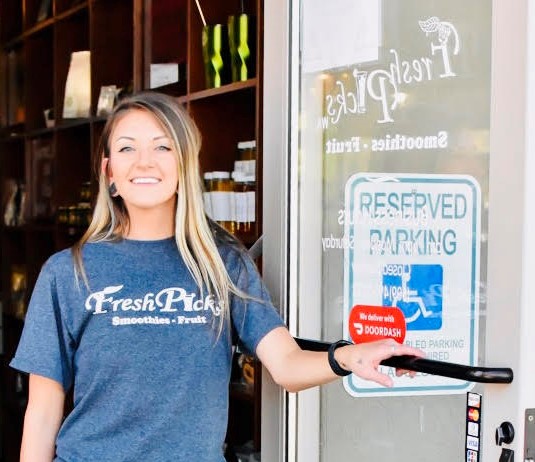 FreshPicksWA Smoothie Store
8378 W Grandridge Blvd Kennewick, WA 99336
1 (509) 491-3252
M-S 8AM to 6PM, Closed Sunday